DJ Phalaris - Mixtapology Vol. 6
Originally Released July 2011
A HEADPHONE OASIS: DJ Phalaris returns with a lively release, featuring new music from Battles, Amon Tobin, the Beastie Boys and more. Tuning in to the creative process itself, this brisk, sample-heavy mix offers a refreshing headphone oasis guaranteed to spin a smile through your summer miles...
CREDITS LIST
Includes notable excerpts from the following, listed this way:
Artist - Song Title / Album or Source
Freeform - Meng / Me Shape
luiiiiiiii - maltreated tape recorder / freesound.org
Beck - Inferno / Odelay Deluxe Edition
audio from The Daily Show 04.07.2011
audio from the 30 Rock episode "The Rural Juror" (S01E10)
Phil Collins - In The Air Tonight (Travis Barker & DJ AM Remix) / YouTube
Missy Eliot - Work It / Under Construction
Radiolab - Sound is Like Touch / radiolab.org
audio from the short film Impossible Wall / patagonia.com
JustinBW - noisegroup / freesound.org
Black Dice - Lazy TV / Repo
Radiolab - Pigeon Magnetism / Radiolab.org
Mitch Hedberg - "Music" from Beret & Pancakes / Strategic Grill Locations
Battles - Ice Cream / Gloss Drop
Eno & Byrne - Pitch to Voltage / My Life in the Bush with Ghosts
Amon Tobin - Calculate + Kitty Cat / Isam
Polmo Polpo - High Breathing / The Science of Breath
Godspeed You! Black Emperor - Antennas to Heaven / Lift Yr Skinny Fists...
Dreissk - To That Which Binds Me / The Finding
audio from the Radiolab episode "Musical Language" / Radiolab.org
excerpt from the Paul D. Miller (DJ Spooky) Interview / Radio Radio
audio from the episode "Arts on the Chopping Block" / Studio360.org
audio from the 30 Rock episode "Secret Santa" (S04E08)
Beastie Boys - Make Some Noise / Hot Sauce Committee Pt.2
Medeski, Martin & Wood - Shackman / 20 - Volume 1
Timbaland - Bounce / Shock Value
Blockhead - Breath and Start / Music by Cavelight
Nerfbau - Cochlear Phantasmagoria / Error Swarms
Bonobo - Intro / Animal Magic
Kid Koala - Taboo Soda / Scratchcratchratchatch
Cathedral - Cosmic Funeral / Cosmic Requiem
Phil Collins - In the Air Tonight (Videoman Remix) / YouTube
Beastie Boys - Professor Booty / Check Your Head
All Mighty Senators - Underwater / All Mighty Senators
Forest for the Trees - Green Light / Forest for the Trees
audio from the film Step Up 3D (2010)
Also includes samples from the following CC licensed audio:
cognito perceptu - cassette tape action 2 / freesound.org
Clemens von Reusner - cars passing by / soundtransit.nl
Barrigan - Tape Squeak / freesound.org
themfish - streets / freesound.org
plagasul - cinta ambiente1 / freesound.org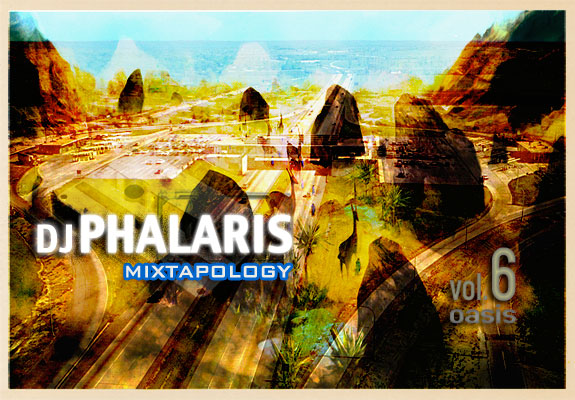 Download Volume Six [45min. MP3]